Himalayan Fixer in Nepal - Project Overview
The Realm of Singing bowl is a documentary film about the traditional Singing bowls in Nepal. This project was to promote the singing bowls by telling the story of origin and its uses. Cordula from Maiden Kontor wanted to complete this project under 18 days of filming. The pre-production started with location scouting and research. We were extensively focused about finding the true origin behind the sacred Tibetan Singing Bowls.

The task was quite impossible as there were very few producers left who made genuine singing bowls. Especially, the Full Moon Singing Bowls. In the process of research we came across Santa Ratna Shakya, a traditional Singing Bowl Manufacturer and a Healer. He is considered the Idol in the spiritual healing sector. With further research, we got to understand the spiritual value of the singing bowls which originates in Nepal. How it can help develop a child from early fetus stage. We carried deep healing process, filming it throughout.

Fixer task was to assist the production crew in the scheduling and transportation. Time was of essence, the crew required to film the production process of the Singing Bowl, where handmade singing bowls took hours of hammering and forging. It required undivided attention to film the process as a skip in the process of forging could miss out the very essence of the film. Challenges were there, but so were the enjoyment of success.
Start Date:
25th March, 2019
End Date:
3rd April, 2019
Works Carried Out:
Transportation
Translation
Production Support
Location Scout
Production Design
Custom Clearance
Equipment Rental
Research and Planning
Team Members:
CORDULA STADTER - Producer/ Director JAKOB STARK - Cinematographer/ DOP SIMON HUECKSTAEDT - Sound Engineer MAIDEN KONTOR - Production House K.T.M. FILMS - Commissioner
"Best Fixer With Swift Decision Making Skills."
"Talented And Humble."
CORDULA STADTER
Producer / Director
Our Approach
Cordula told us that they are looking for reliable sources to plan their project. We had to give our best. Fixing can be a challenging task in Nepal. As an underdeveloped country, finding profiles and connecting with them is the primary challenge. For filmmakers coming in for any kind of project, it is our responsibility to co-op with the locals and be a bridge in between. Interpretation of this story meant a lot in the sense of film industry in Nepal and also the overall representation of the country.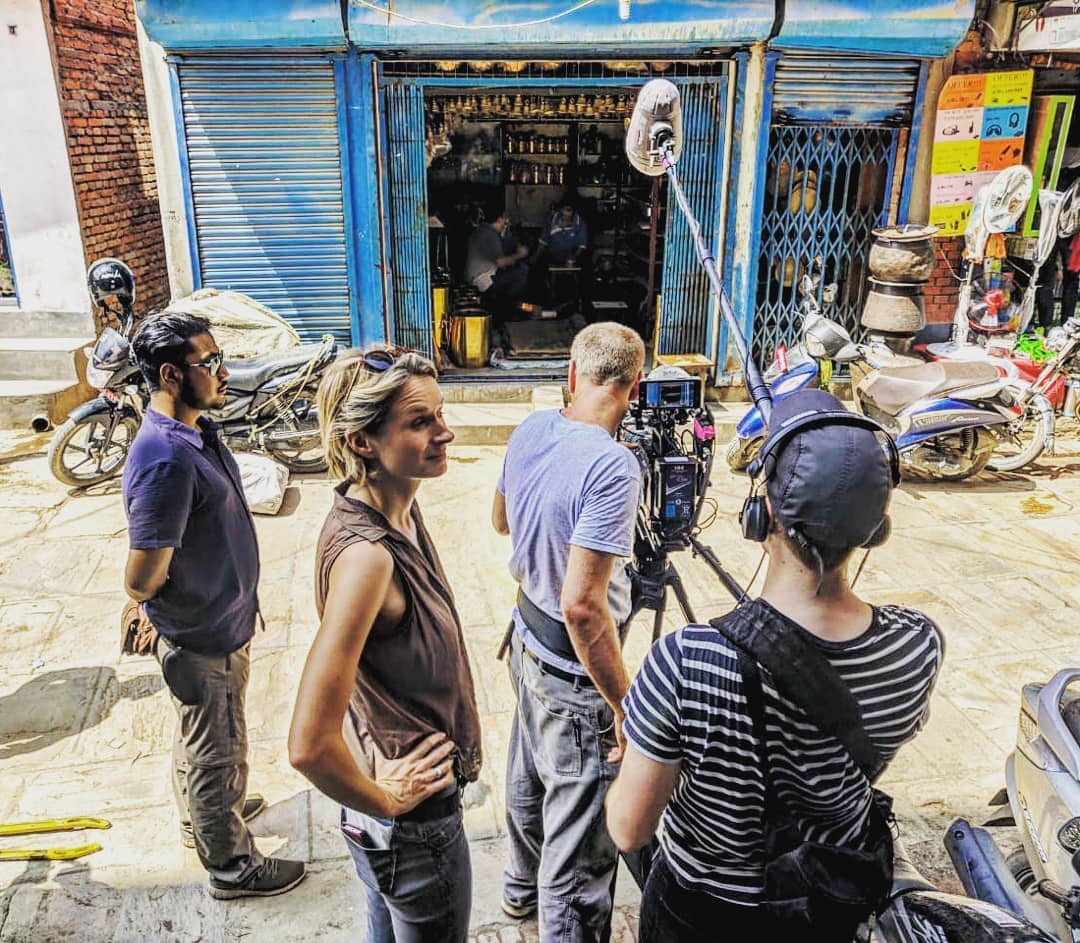 OVER ALL FOCUSED POINT
Undivided focus in overall production design, schedules and transportation.
Provide swiftest custom clearance dealing with all bureaucratic procedures.
Profile connection and scheduling locations.
Transport the whole crew to Pharping on time and back to Kathmandu.
Provide best locations and alternatives for the shoot.
On location food delivery.
Consider all safety measures for activities concerning the shoot.
Provide Equipment Back up with 24/7 on location delivery.
Get In Touch For More Information